Accreditation/Credit Designation
Physicians' Education Resource®, LLC, is accredited by the Accreditation Council for Continuing Medical Education (ACCME) to provide continuing medical education for physicians.
Physicians' Education Resource®, LLC, designates this enduring material for a maximum of 1.0 AMA PRA Category 1 Credit™. Physicians should claim only the credit commensurate with the extent of their participation in the activity.
Acknowledgment of Support
This activity is supported by an educational grant from BeiGene Ltd.
Oncology Briefings: Assessing the Role of BTK Inhibitors Across Hematologic Malignancies

Release Date: February 26, 2021
Expiration Date: February 26, 2022
Activity Overview
This online activity is designed to provide a concise and focused overview on an important clinical topic and includes information on the role of B-cell receptor signaling and Bruton's tyrosine kinase (BTK) inhibitors in the development of mantle cell lymphoma (MCL) and chronic lymphocytic leukemia (CLL), the efficacy and safety of approved and emerging BTK inhibitors, guidelines for treatment decision-making for patients with CLL, and discussions with expert faculty related to the role of BTK inhibitors in the treatment of hematologic malignancies. The engaging, multimedia format of this program includes audio commentary from an expert thought leader integrated with text-based elements.
Acknowledgement of Commercial Support
This activity is supported by an educational grant from BeiGene Ltd.
Instructions for This Activity and Receiving Credit
Complete the activity (including pre- and post-activity assessments).
Answer the evaluation questions.
Request credit using the drop-down menu.
You may immediately download your certificate.
Target Audience
This activity is intended for hematologist/oncologists and medical oncologists who treat hematologic malignancies. Fellows, researchers, nurses, nurse practitioners, physician assistants, and other health care professionals interested in the treatment of patients with hematologic malignancies are also invited to attend.
Learning Objectives
Upon successful completion of this activity, you should be better prepared to:
Recognize how tumor biology informs the application of BTK inhibitors in the treatment of hematologic malignancies, such as MCL and CLL
Assess recent clinical trials concerning the use of BTKIs for the treatment of hematologic malignancies
Discover current applications for BTKIs in CLL based on available clinical trial data, as well as consider how evolving trial designs/ongoing investigations may shape future care approaches among patients with CLL and other hematologic malignancies
Understand adverse event profiles across BTKIs alone or in combination with other therapies, including the impact of mechanism of action of BTKIs on safety outcomes.
Faculty, Staff, and Planners' Disclosures
The staff of Physicians' Education Resource®, LLC have no relevant financial relationships with ineligible entities.
Faculty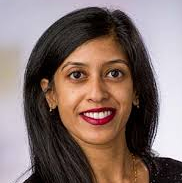 Chaitra Ujjani, MD
Clinical Associate Professor, University of Washington
Associate Professor, Fred Hutchinson Cancer Research Center
Seattle Cancer Care Alliance
Seattle, WA
Disclosures: Grant Research Support: Pharmacyclics, AbbVie, AstraZeneca, LOXO; Consultant: AbbVie, AstraZeneca, Atara, Epizyme, Morphosys, Pharmacyclics, TG therapeutics.
PER® mitigated all COI for faculty, staff, and planners prior to the start of this activity by using a multistep process.
Off-Label Disclosure and Disclaimer
This activity may or may not discuss investigational, unapproved, or off-label use of drugs. Learners are advised to consult prescribing information for any products discussed. The information provided in this accredited activity is for continuing education purposes only and is not meant to substitute for the independent clinical judgment of a healthcare professional relative to diagnostic, treatment, or management options for a specific patient's medical condition. The opinions expressed in the content are solely those of the individual faculty members and do not reflect those of PER® or any company that provided commercial support for this activity.
---
Login or Register to Start Activity
Please use the form below to Register or Log In to begin Activity.